When I came into the office Monday morning, the last email I want to see had the subject of "Help".

I'm thinking great what kind of dumpster fire am I going to have to put out this fine Monday (you might be able to relate to that).

To my pleasant surprise, it was a great long-time customer with a great problem to have if you must.

Check out his email for yourself: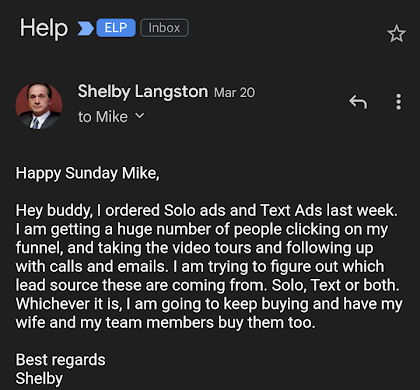 Having a huge number of leads taking action is a great problem to have.

The fundamental issue of not knowing where they are coming from still needs to be solved.

I always recommend testing sources to see what works best.

But How do you do that?

Well, here is my answer to him and it will probably help you out as well:

It could be either of them or both… Are you able to track your sources somehow?

A lot of times you can do that by tagging the pages or forms, etc.

Sometimes it's enough just to use UTM tracking tags and set up a conversion goal, especially if you use Google Analytics.

There are other ways to do it as well.

It varies on how to do that by whichever platform (autoresponder/CRM/etc) you are using.

That would be the only way to tell if you are running them to the same page.

So, if you don't know how to track lead sources already, check with your autoresponder/CRM provider.

They can probably help.

So, to say thank you to Shelby for the email, we are doing a 25% over-delivery on all solo email ads this week only:

Start a solo email ad campaign today and have Shelby's problem tomorrow

Start an SMS Text ad campaign today and have Shelby's problem tomorrow

Leave a comment below and let me know how you track your lead sources.